Why People Choose Dodge Muscle Cars over Ford or Chevrolet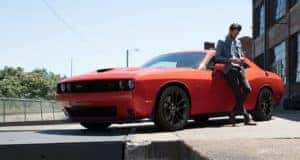 Arguably one of the most American things out there is a muscle car. Muscle cars make a bold statement about raw American engineering performance and driving thrill. But which one makes the biggest statement with the performance to back it up? Artioli Chrysler Dodge Ram of northern Connecticut and western Massachusetts compares the top three muscle cars on the road – the Dodge Challenger, Ford Mustang, and Chevrolet Camaro – and why people keep choosing Dodge over its competitors.
Engine Performance
When it comes to choosing the right muscle car, engine performance is key. The Dodge Challenger's base model comes with a 305-horsepower V6 engine. This easily exceeds the 275 horsepower, 4-cylinder engine that comes standard in a Chevrolet Camaro.
Meanwhile, the top-line Chevrolet engine has a 650-horsepower V8 engine, just behind the 2020 Ford Mustang's more than 700-horsepower engine. The Dodge Challenger SRT Demon, though, beats them both out with a whopping 840-horsepower V8 engine. That's some serious muscle.
Safety and Reliability
With so much power behind the wheels, safety is a major factor to consider when shopping for a muscle car. Both the Ford Mustang and the Chevrolet Camaro get a 5/5-star rating from the National Highway Safety Administration (NHTSA). They also have overall "Good" ratings – the highest possible score – from the Insurance Institute for Highway Safety (IIHS). Both are very safe cars and fairly reliable as well.
Again, however, the Dodge Challenger finishes first. Alongside a five-star NHTSA rating and a Good IIHS score, it has a reliability prediction of four-out-of-five. What's more, it offers the following features that drivers can take peace-of-mind in having when on the road:
Standard rearview camera
Optional all-wheel drive
Adaptive cruise control
Collision warning system
Blind-spot monitoring
Interior Comfort and Functionality
Though comfort might not be the most important thing people look for in a muscle car, it's certainly still important. Even a rough, tough, performance-oriented car can have a high comfort value. When it comes to cabin design, the Dodge Challenger eclipses that of the Ford Mustang or Chevrolet Camaro. Dodge's interior layout hasn't changed much over the years, and for good reason. The base model, for instance, comes with lots of space, supportive seating, and great features such as the following:
Uconnect information and entertainment system
Automatic dual-zone climate control
Compatibility with Bluetooth, Apple CarPlay, and Android Auto
Luxurious upgrades like leather seating, high-end sound systems, navigation, remote start, and more
Chevrolet and Ford just can't compete with Dodge. While both have front seats with plenty of support, critics say the back rows are cramped and too firm for comfort. Plus, with such a variety of base features, the comfort and functionality of the Dodge Challenger tops the muscle car market.
Shop Dodge Muscle Cars Today
If you're looking for a powerful, reliable, comfortable muscle car, you can't beat the Dodge Challenger. As the go-to dealer of Dodge muscle cars in northern Connecticut and western Massachusetts, Artioli Chrysler Dodge Ram will set you up with the toughest vehicle on the road. Contact us to find out more about what makes Dodge muscle cars superior to Ford or Chevrolet, or request to schedule a test drive today.