Comparing the Ram 1500 to the Chevy Silverado 1500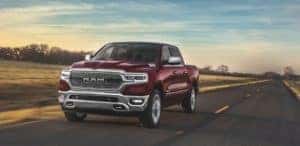 When searching for the perfect pickup truck, many buyers ask themselves, "Ram 1500 or Silverado 1500?" While both are popular options, it's essential to choose the one that's tougher, smarter, and more economical. In Enfield, Connecticut, Artioli Chrysler Dodge Ram educates buyers on why the Ram 1500 is a wiser investment than the Chevy Silverado 1500. Here's a closer look at why.
Made for Tough Jobs
Whether you're pulling stumps, hauling supplies, or towing the RV to the campsite, you need a truck that can confidently handle the task at hand. With its high towing and payload capacities, the Ram 1500 outshines its competitors in its ability to work hard and play harder. For instance, the Ram 1500 can pull up to 12,750 lbs., which far surpasses the 9,600 lb. towing capacity of the Chevy Silverado.
The Ram 1500 isn't only great at towing, though, as it can also haul a payload of up to 2,300 lbs. While the Chevy Silverado comes close, it still can't keep up with its lower payload capacity of 2,170 lbs. It's clear that when it comes to tough jobs, the Ram 1500 is the answer.
Perfect for Tech Lovers
For drivers who love tech, the Chevy Silverado 1500 offers power outlets, keyless open and start, a six-speaker audio system, and rear-view cameras for backing up. While the Ram 1500 offers all these same features, it separates itself thanks to its advanced Uconnect system, which cannot be found in the Chevy Silverado 1500. Uconnect offers a variety of features for convenience, safety, and entertainment, including the following:
Uconnect market for easy shopping in your seat
Advanced navigation systems
Family drive alerts that warn of changes in curfews and speed limits as you travel
SiriusXM entertainment system, with music, podcasts, talk shows, and more
Bluetooth wireless connection with your smartphone
Need help? Uconnect can also help locate emergency service providers, call for roadside assistance, connect you with stolen vehicle assistance, and send security alert texts to your phone. You can even access all of these convenience and safety features from your smartphone with the Uconnect app.
Superior Fuel Economy
The standard Chevy Silverado's 4.3-liter V6 engine can return a reliable 16 miles per gallon (MPG) in the city and 21 MPG on the highway. This isn't bad for a full-sized truck, but it's surpassed by the Ram 1500. The Ram's 3.6-liter V6 mild-hybrid engine allows it to reach 20 MPG in the city and 27 MPG on the highway, giving drivers added peace of mind and the ability to stretch their gas budget.
Shop Ram at Artioli Chrysler Dodge Ram
If you're looking for a tough, technological, and economical truck, consider the Ram 1500. Located in Enfield, CT, Artioli Chrysler Dodge Ram is the #1 dealer of Ram 1500s and other models in northern CT and western Massachusetts. Contact us to find out more about the superiority of the Ram 1500 or start shopping for your new Ram truck today.