The New Dodge Challenger Brings Old-School Cool Into The Modern Age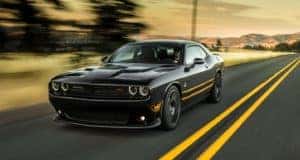 The 2018 Dodge Challenger builds on perfection by adding more choices, powerful performance enhancements and new standard equipment to deliver a car that combines a muscle pedigree with new-age technology and performance. From handling the traffic of the daily commute with ease to cruising the scenic route, the 2018 Dodge Challenger has the stylish looks, comfortable interior and handling that is sure to please even the most discriminating driver.
More Options
The 2018 Dodge Challenger offers more choices than before so you can get the right car for your needs. It has two new exterior colors, and you can choose from a class-exclusive, all-wheel drive on our powerful V-6 series models to rear wheel drive with ground shaking HEMI V-8 engine choices. There also are more choices for the interior, including nappa leather and microsuede as part of the Super Trak Pak options for the Challenger SXT and R/T models.
Your Choice Of Power
You can choose between the standard V-6 Dodge Challenger or move up to the 375-horsepower V-8. You also could go for the ultimate in power with the ultimate Challenger SRT hellcat with 707-horsepower 6.2L V-8. The Challenger is available in several trim levels with a six-speed manual transmission or an eight-speed automatic with paddle shifters. The Performance Package option with the Hemi packs Brembo® brakes and a highly tuned performance suspension. Regardless of your driving style, the 2018 Dodge Challenger is a car you will love.
Uncompromising Safety Options
The 2018 Dodge Challenger continues to improve on its already outstanding safety features with both standard and optional safety equipment. All Challenger models are now equipped with a backup camera as standard equipment along with the front driver and passenger side airbags and side impact airbags. Safety options include a Rear Cross Traffic Monitor, Forward Collision Warning, Rear Parking Sensors, a blind spot monitor and Adaptive Cruise Control on some models.
From new exterior colors and interior comfort choices to powerful drive trains, the 2018 Dodge Challenger has something for every driver. Test drive the Challenger at Artioli Dodge Chrysler Ram in Enfield, CT, today. We will help you harness the power and performance of your new 2018 Dodge Challenger.